Before the exercises begin, take advantage of all the recreational activities MWR has to offer!

Celebrate America's Birthday with us! RIMPAC comarades are welcome. 4 concerts, giveaways and the best fireworks display on the island!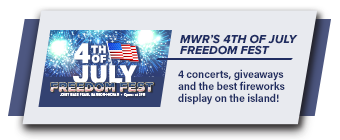 Whether its a great burger, waterfront breakfast, plated meal, or just a few drinks, we have something that will wet your pallate here at JBPHH. Click on any of the following links or pull down the "Dining & Retail" menu tab above for a full listing.

Get some surfing lessons, take a ride on a boat, a round of golf, book a luau, or even rent some gear (or a pavilion) to make your beach day a great one. Give one of MWR facilities a call to enjoy the outdoor world in Hawaii.