To register for MFSC classes click here and search for your class date.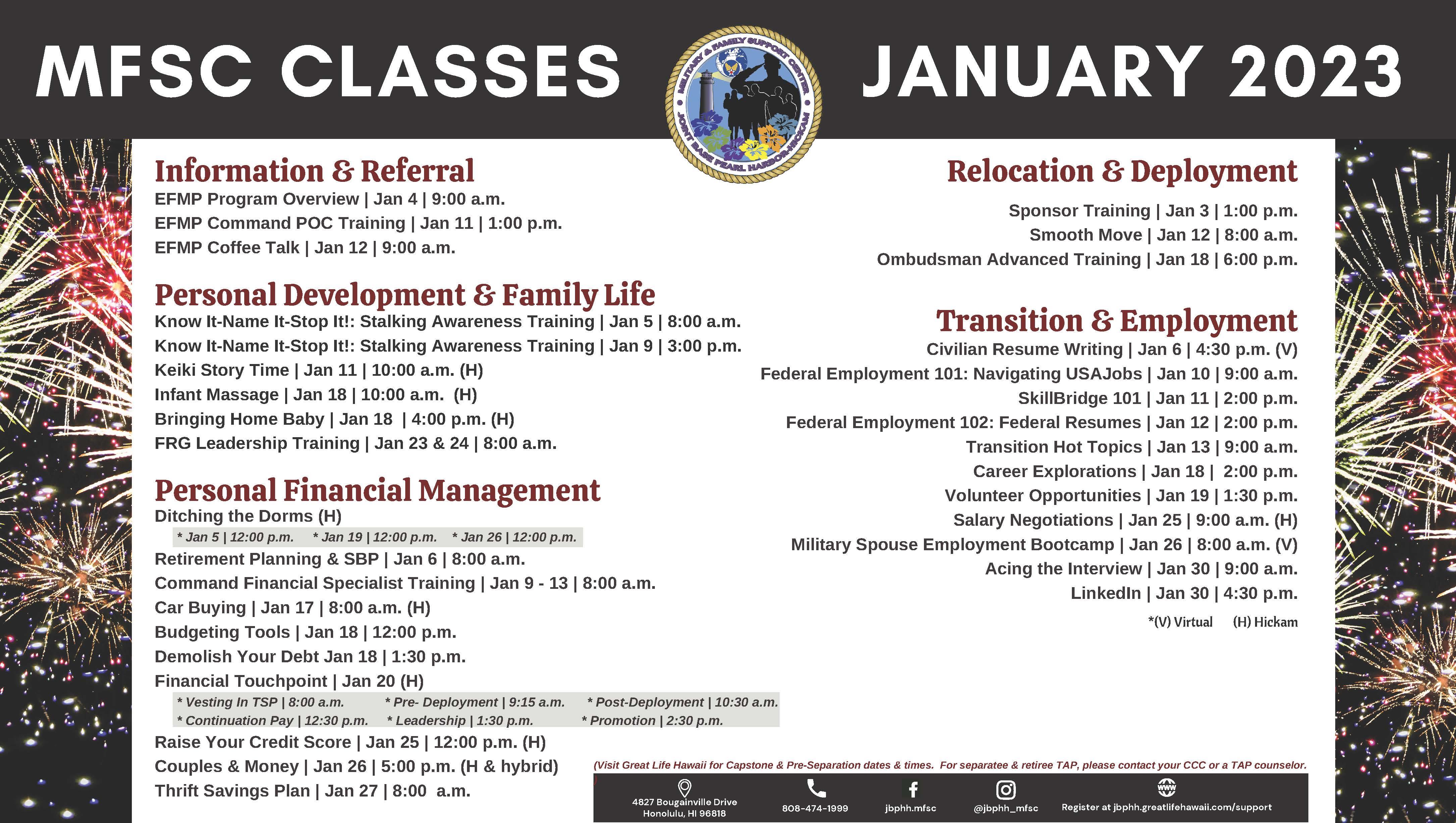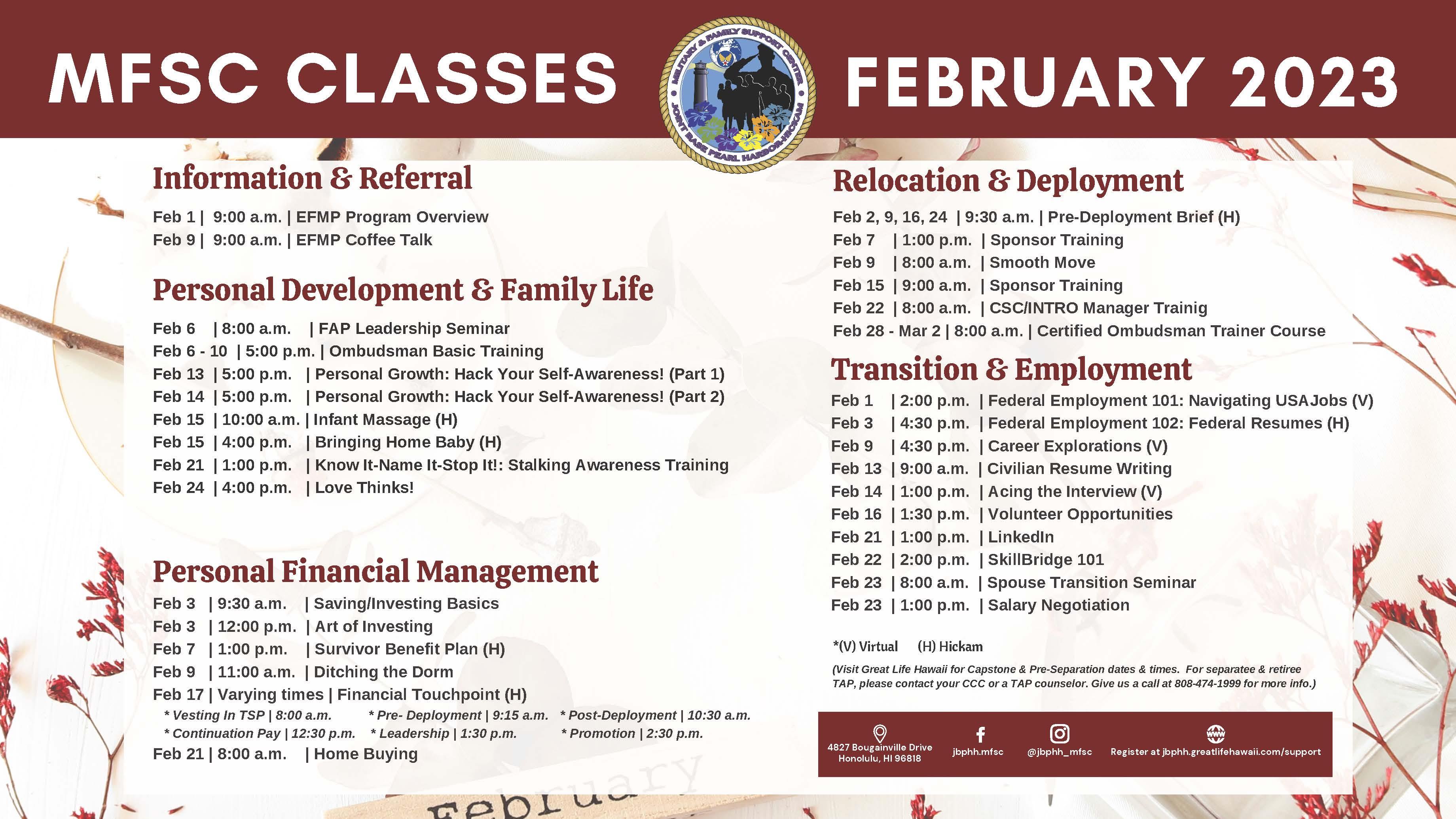 ANGER MANAGEMENT. We all know what anger is, and we have all felt it: whether as a fleeting annoyance or as a full-fledged rage. Feeling anger is not unusual; it is a completely normal and healthy human emotion. It's how we channel that anger and emotion that's important. Join us for this class that is designed to help you better understand, channel, and control your anger.
BOOT CAMP FOR NEW DADS. Join veteran dads (and their babies), to learn how they made it through the first months of parenthood and resurfaced as confident, on-the-job fathers. Learn how to handle a baby, find out about issues you didn't know were important and get tips on those that are. In this men-only environment, no question is stupid and no topic off limits.
Dads and dads-to-be will discuss issues including: Changes in new mom, handling a newborn, finding work/home balance, introducing pets to baby, safety issues, working and being a dad, your relationship with mom, feeding and changing, how to calm a crying baby, handling parents and in-laws, breastfeeding, and anything else on your mind!
CAPSTONE EVENT. Capstone is the final mandatory step in the transition process. This class incorporates an individualized appointment with a transition counselor to answer questions and validate transition readiness from military to civilian life. Referrals to additional resources/agencies that offer targeted assistance is available. Capstone must be completed NLT 90 days prior to separating/retiring. TRANSITION ASSISTANCE PROGRAM (TAP) WORKSHOP IS A PRE-REQUISITE.
CAR BUYING STRATEGIES. Thinking of buying a car? Don't get taken for a ride! Learn all the important do's and don'ts BEFORE you step onto the car lot. Learn how to negotiate and determine what you can afford; plan for various expenditures of a car; trade-ins, discounts and financing; high-pressure sales tactics and tricks to watch out for; and education on financing a new or used car.
CIVILIAN RESUME WRITING. This class will cover the different resume formats and the advantages and disadvantages of each. Learn how to write powerful accomplishments that help you stand out from the competition, proper formatting, common mistakes to avoid, and so much more. Note: this class targets private sector resumes only.
COMMAND FINANCIAL SPECIALIST (CFS) REFRESHER TRAINING. This one-day training is required every three years for trained Command Financial Specialists to review and sharpen skills learned in Command Financial Specialist (CFS) training which include the financial planning worksheet, solution-focused financial counseling, and developing your CFS program. Learn new presentation skills and techniques as well as discuss current financial topics. Open to all trained Command Financial Specialists.
CONFLICT RESOLUTION. This workshop helps people to manage conflict by examining their attitudes and behaviors when faced with conflicting situations. Learn how to prevent conflict from escalating and how to work with others to solve problems; this allows people to grow, missions to succeed and families to strengthen.
CULTURE ADAPTATION & NEW SPOUSE ORIENTATION
Culture Adaption and New Spouse Orientation assistance can be obtained through the MFSC JBPHH, Relocation Assistance Program (RAP) Manager. Spouse Orientation is available online.
DATING WITH A PURPOSE. Finding quality relationships can be challenging. When we look at the challenges presented with internet options, baggage from broken relationships, work demands, emotional and physical safety; an instruction manual would be helpful! Participants will take a moment to evaluate the qualities they want to bring to, and receive from a relationship; using improved communication skills and remain mindful to ensure you're not settling!
DEALING WITH DIFFICULT BEHAVIORS. Do you ever encounter difficult behavior at work? How well do you work with people that handle situations differently than you do? Attend our workshop and learn about different behavior types that we encounter in the workplace. We can teach you some tips on how to identify difficult behavior patterns, and the best way to deal with each specific one.
DEVELOPING AND STRENGTHENING COMMUNICATION SKILLS. Learn how relationships are rooted in how we communicate. Be able to assess yourself, and your significant other in terms of personality types. Help adults understand why they are attracted to the identity traits of their spouse or intimate partner. Finally, develop and sharpen new, more effective communication and conflict resolution skills.
DEVELOPING SELF-ESTEEM IN CHILDREN: Did you know a parent's behavior can influence their child's thinking? Learn the "language of encouragement" and the importance of building self-esteem in children. Discover the power of mutual respect and how to understand the difference between praise and encouragement.
EFMP COFFEE TALK. Learn, share and connect with other Exceptional Family Member Program (EFMP) families!
FEDERAL EMPLOYMENT 101: UNDERSTANDING USA JOBS. The application process for federal jobs can feel confusing and overwhelming. This course will help you navigate the USA Jobs website and understand hiring preferences/appointment authorities and how to leverage them. You will leave this course with a better understanding of the federal hiring process and ready to start your federal resume.
FEDERAL EMPLOYMENT 102: FEDERAL RESUME WORKSHOP. Civilian and Federal resumes are very different. This course will provide a workshop environment to offer best-practice guidance and personalized assistance to help you target your own federal resume. We recommend bringing a laptop, your draft resume, a job announcement, and employment documents saved. Before leaving, we will review your resume and suggest additional assistance you may require for further progress. NOTE: Attending Federal Employment 101: Navigating USAJobs class is required prior to attending Federal Employment 102: Federal Resumes.
FINANCIAL: CONTINUATION PAY. Approaching 12 years in service and continuation pay eligibility? Understand all the options, financial and tax implications, and make the best decision for you! This training fulfills the Financial Literacy TouchPoint requirement for sailors; airmen must also complete actions in myPers.
FINANCIAL: FIRST CHILD. Congratulations! Along with the joy there are some financial, insurance, legal and other things to take care of. If you're Navy, please join us at the NMCRS Budgeting for Babies monthly workshop (473-0282 to register). If you're Air Force, please join us at the quarterly Bundles for Babies workshop ( https://booknow.appointment-plus.com/y3hkh8pv/ to register). Your MFSC financial counselor will be there to provide a checklist and discuss those extra things to consider! This training fulfills the Financial Literacy TouchPoint requirement.
FINANCIAL: LEADERSHIP. Congratulations on achieving a leadership position! Get up-to-date information on financial trends and potential issues to watch out for as you're working with your airmen/sailors, as well as helpful tools and tips. This training fulfills the Financial Literacy TouchPoint requirement.
FINANCIAL: MARRIAGE. Congratulations! Along with marriage comes a conversation about finances and other legal/healthcare/DEERS/FSGLI/etc. actions required. This comprehensive workshop will touch on things you need to consider and take action on. This training fulfills the Financial Literacy TouchPoint requirement.
FINANCIAL: PCS. It can be exciting to move to a new location, but also a financial strain. Planning ahead to estimate expenses versus entitlements and cash flow changes can take some of the stress out of PCS! Sign up for our MFSC Smooth Move Workshop to learn these tips and other great resources and information! This training fulfills the Financial Literacy TouchPoint requirement.
FINANCIAL: POST-DEPLOYMENT. Before you spend that hard-earned extra deployment money, take a minute to think about how it can best impact your short or long-term financial goals! We'll give you some great tools and info to help. This training fulfills the Financial Literacy TouchPoint requirement.
FINANCIAL: PRE-DEPLOYMENT. Your financial picture changes during deployment – plan ahead to maximize extra money and go after some financial goals! We'll give you some great tools and info to help. This training fulfills the Financial Literacy TouchPoint requirement.
FINANCIAL: PROMOTION. Congratulations on your promotion! This is a great time to think about how the extra income may help you achieve financial goals. We'll help you consider all options based on your individual/family goals. This training fulfills the Financial Literacy TouchPoint requirement.
FINANCIAL: TSP VESTING. Join our TSP workshop to understand all the investment options, tax implications, and withdrawal options. If you're in the Blended Retirement System, learn how to maximize matching contributions and how to use TSP to help set up your best retirement financial picture. This training fulfills the Financial Literacy TouchPoint requirement.
FOSTER CARE INFORMATION SESSION. Interested in foster care? Please attend a foster care information session to learn more about: Foster Home Licensing Requirements & Process, Sharing by Resource Caregivers & Alumni Foster Youth, Wendy's Wonderful Kids - Adoption Program, and Family Programs Hawaii -Volunteer Opportunities.
FROM BASE TO PLACE. Are you moving out of government barracks or dorms soon? Moving out requires adequate planning. This course will prepare service members for moving off base while establishing effective financial goals and saving strategies.
GREEN CARD/IMMIGRATION AND NATURALIZATION. Green Card/Immigration 0930-1030 / Naturalization 1030-1130.
Want to apply for your American citizenship? The Military and Family Support Center in partnership with U. S. Citizenship and Immigration Services presents an Immigration Information Workshop to assist you. This class will provide step-by-step instructions and help you understand and navigate the U. S. Citizen immigration application process.

HEALTHY RELATIONSHIPS 101. This class outlines characteristics of a healthy relationship, how self-esteem affects our choices, effective communication, and conflict resolution. We'll give you the tools to build and maintain a solid foundation for a quality relationship. Great for any personal relationship, whether working, family, or romantic.
HIGH-TECH PARENTING. Social media - not an anonymous world! It is very easy to get caught up in the "feeling" of anonymity behind the click of a mouse. Unfortunately, the lessons learned can lead to threatened safety, humiliation or the cost of a friendship. Help your children understand the value of safety, modesty and care while posting on the internet!

HIRING EVENT. Join us at the Military and Family Support Center for a free hiring event for Service Members, Veterans, and Dependents. This event will feature a wide variety of employers from the public and private sectors located on island and across the nation. Bring copies of your resume, dress for the job, and practice your 30 second elevator speech to score that on-the-spot interview!
HOME BUYING. Plan on buying a home? This is a great opportunity to gain a strong foundation for home purchase decisions and how to avoid unexpected expenses and stumbling blocks. Workshop focuses on the purchase decision process, steps to take before investing in a home, details of the purchase, and mortgage options.
IN-DEPENDENTS. Family member/teen graduating high school and going off to college or work? This day is for YOU! Fantastic info on healthcare, money, employment, education, and more!
KEY SPOUSE MENTOR TRAINING. Key Spouse Mentor Training is a peer to peer instructive and interactive training; providing opportunities for mentors to learn from each other and share ideas and information. This class focuses in on how mentors can best serve in their role and begin establishing goals which will correspond with the goals already established by the unit CC for the unit KS Team. This training is for new KSMs who have already attended Initial KS Training.
KNOW YOUR SCORE. This course will provide resources to establish and maintain good credit, avoid excessive debt and determine a safe debt load.
LINKEDIN: WHAT WILL THEY SEE. In this interactive workshop, participants will learn how private sector employers are taking advantage of the business and employment oriented social network LinkedIn to assist in networking, recruiting, and hiring. This class will demonstrate building your professional profile and summary, utilizing the job search functions, marketing yourself to LinkedIn recruiters, strengthening your network, and leveraging the LinkedIn resources to your advantage.
MILLION DOLLAR SERVICE MEMBER. This two-day class is designed for junior Navy and Air Force personnel who will learn about proper budgeting techniques, credit management, savings and investment options, insurance, military pay and allowances, consumer rip-offs, how to obtain a loan, credit scores, report, and new and used car purchasing techniques.
NEW MOMS AND DADS. New and soon-to-be parents (or those who are thinking about becoming parents) will learn about the roles, responsibilities, demands and joys of being parents. The session will also include early childhood social, emotional and physical development, crying and consoling basic care information, and what to expect in the first year.
OMBUDSMAN ASSEMBLY MEETINGS. All officially appointed ombudsmen are required to represent the command at the local Ombudsman Assembly meetings. Local ombudsman assemblies frequently serve as venues for ongoing training of ombudsmen. Assemblies serve as liaison for policy discussion and clarification by appropriate local agencies regarding issues of interest to ombudsmen and command family members.
OMBUDSMAN BASIC TRAINING. Ombudsmen are required to attend training soon after their appointment by their Commanding Officer. Ombudsman Basic Training's nine modules provide the foundation to properly execute the ombudsman's duties. All Command Support Team (CST) and their spouses are encouraged to attend. To register, call 474-1999.
ONWARD TO OPPORTUNITY (O2O). Transitioning service member or military spouse interested in obtaining a professional certification for FREE? Check out onward2opportunity-vctp.org to register for a cohort hosted by your JBPHH MFSC!
PARENTING GROUP. This eight-week interactive parenting group assists parents to better nurture their children, allowing their children to grow into responsible adults and loving parents to their own children. For more information and to register, call MFSC and ask to speak to the group facilitator.
PCSING WITH PETS. Pets are family too! Learn about the process of preparing your pet(s) for the PCS/Relocation process whether you are preparing to PCS to Hawaii or on your way out of Hawaii. Topics include: Pre-travel considerations, documentation, preparing your pet(s) for travel, Hawaii-specific procedures, air and car travel considerations, packing lists, emotional support and service dog requirements, and how to get your pet(s) accustomed to their new location. Information discussed is pertinent to both arrival and departure from Hawaii, with the exception of quarantine information that only applies to arrival to Hawaii.
PART-TIME MONEY MAKERS. Our class will help you discover creative ways to earn supplemental income! This course will cover legitimate, remote employment opportunities; guidance on self-employment, leveraging your hobby into a money maker, quick-start income opportunities and money saving apps. We will also help you identify red flags for scams and determine your entrepreneurial risk tolerance and potential.
RELOCATION AND CHILDREN. Preparing to relocate can be both exciting and challenging for your family. Join us to learn helpful tips to ease the process of relocating with children. Topics include: Preparing your child(ren) for the move, how to research youth programs at your new location, helpful school information, emotional support resources, and tips on adjusting to your new location.
SAPR VICTIM ADVOCATE INITIAL TRAINING (VAIT). The VAIT is a 40 hour in-depth SAPR course that is designed to prepare an individual for the role and responsibilities of a US Navy SAPR Unit Victim Advocate. This is a highly interactive class that provides a comprehensive overview on the SAPR program/procedures, dynamics of sexual assault and victimization, response by the command, medical, legal, investigative, counseling, and advocacy personnel, as well as SAPR intervention and prevention strategies. Interested personnel should contact their respective SAPR POC or command leadership to express their interest in attending the class and becoming a Unit Victim Advocate. The command will in turn coordinate course registration with the SAPR office.
SAPR VICTIM ADVOCATE REFRESHER TRAINING. Refresher training is required to provide continuous education for current D-SAACP Certified US Navy SAPR Victim Advocates. Contact the Sexual Assault Response Coordinator for more information.
SAVING AND INVESTING. If you have been able to put away extra money on a month-to-month basis, it's always a good idea to think about ways that you can build on what you already have. If you haven't been able to put away as much as you'd like, here's your chance to learn how. This workshop will teach you techniques for managing and budgeting your money; how to shop for investments; the difference between stocks, bonds, Roth and traditional IRAs, CDs, money market accounts, and more. Make your money work for you!
SEX ASSAULT SURVIVORS GROUP. If you were sexually abused or assaulted, this on-going weekly support group for women survivors of any type of sexual harassment or assault can help. The group offers a safe place to learn, deal with the feelings, talk with other survivors, get validation, and heal in your adult life. For information and to register, call MFSC and ask to speak with the group facilitator.
SKILLS DEVELOPMENT GROUP. This eight-week group is designed to increase participants' conflict resolution skills in relationships. Topics include anger management, stress management, assertiveness training and common relationship issues. For more information and to register, contact MFSC and ask to speak to the group facilitator.
SLEEP ROCKS! We often take sleep for granted. We hear people brag about how much they work on little sleep. We often feel our schedules do not permit enough sleep! Learn about the importance of good sleep hygiene and how to incorporate these practices into your daily routine. Managing time for sleep, practicing good sleep habits will lead to improved health and energy levels; this can change your life
SMOOTH MOVE. This workshop features speakers from other agencies to provide you with a better understanding of the Permanent Change of Station (PCS) process. Topics include: Financial Planning, TRICARE, Basic Entitlements and Allowances, Shipment of Household Goods, Shipping Your Vehicle, and Researching New Base and Location.
SPONSOR TRAINING. Gives the new sponsor information, resources, and tools needed to assist incoming personnel and families, in order to ease their transition to a new environment. Spouses are encouraged to attend.
STOP BULLYING. Has your child been a victim of bullying? Has your child been the bully? This workshop looks at the dynamics of bullying and ways to defend against it. Building our children up today will help end bullying for tomorrow!
STORY TIME. Bring your kids to MFSC for story time! Books focus on the AMAZING people kids are, and relate life skills in age-appropriate ways. Following the end of the reading, kids will participate in an empowering activity.
STRATEGIZING WITH STRESS. Stress is a normal psychological and physical reaction to the ever increasing demands of life. Most people experience challenges with stress at some point during the year. Over time, high levels of stress can lead to serious health problems; that is why managing your stress is so important. Learn how stress affects our personal and professional lives, how we can decrease the stress we are experiencing, and how to interrupt the stress cycle and use relaxation techniques.
TAP: DEPT OF LABOR EMPLOYMENT WORKSHOP. Covers emerging best practices in career employment, including in-depth training to learn interview skills, build effective resumes, and use emerging technology to network and search for employment.
TAP: VOCATIONAL TRAINING TRACK. Offers a unique opportunity for participants to complete a personalized career development assessment of occupational interest and ability. This industry-standard assessment presents participants with a variety of tailored job recommendations (some of which are classified as high-demand or high-growth occupations) that align with their interests and aptitudes. Participants are also guided through a variety of career considerations, including labor market projections, education, apprenticeships, certifications, and licensure requirements.
TIME MANAGEMENT: Acquire skills to make better choices about time management and achieve your goals. Gain personal understanding and practical skills to implement a customized framework for successful time management.
TRANQUIL SEAS: MINDFULNESS AND SELF-CARE. Self-care is a critical element in managing stress, preventing burnout and achieving a sense of fulfillment. Evaluate ways you can build self-care into your daily routine, be mindful through your activities and reach your fullest potential.
TRANSITION ASSISTANCE PROGRAM (TAP) FOR RETIREES. This mandatory 3-day workshop provides transitioning service members with an intensive transition overview including information and referral for Veteran's Benefits and services, individual transition plan consultation, MOC Crosswalk and GAP Analysis instruction, and personal financial planning for transition. Plan to attend within two years of retirement. Spouses are encouraged to attend. Navy members must register through their CCC. Air Force members may register through a transition counselor at the MFSC.
TRANSITION ASSISTANCE PROGRAM (TAP) FOR SEPARATEES. This mandatory 3-day workshop provides transitioning service members with an intensive transition overview including information and referral for Veteran's Benefits and services, individual transition plan consultation, MOC Crosswalk and GAP Analysis instruction, and personal financial planning for transition. Plan to attend within one year of separation. Spouses are encouraged to attend. Navy members must register through their CCC. Air Force members may register through a transition counselor at the MFSC.
TRANSITION HOT TOPICS. Transitioning from military to civilian involves learning a lot of new information. This workshop incorporates some of the most commonly asked about topics during transition, including Survivor Benefit Plan, VA Benefits, VA Claim Filing, Tricare, LinkedIn and Salary Negotiation. Also, don't miss the SkillBridge Social from 2:30-4:00pm to learn about internship opportunities and connect with current SkillBridge partners.
UNPLUG YOUR RELATIONSHIP. Learn about yourself and your partner by spending a few hours together, technology-free. "Unplug Your Relationship" by having fun and creating art without interruptions.
VOLUNTEER OPPORTUNITIES. Interested in volunteering in the JBPHH community? Attend our monthly Volunteer Opportunities class where everything about volunteering will be discussed. Referral information to JBPHH programs in search of quality volunteers will be made available. Interested in volunteering at the Military & Family Support Center? A short tour of the facility will provided after your volunteer application is filled out in the class. Join us to learn about the many ways you can take part in your community, gain new experiences and work skills. Volunteering helps in many ways and is a great way to network when looking for employment. This class will also help you determine if volunteering is a good choice for you at this time. All DOD card-holders are welcome.
WELCOME TO JBPHH. Welcome all newcomers! This class familiarizes new arrivals with information, resources, and activities available within Joint Base Pearl Harbor-Hickam community. We will explore services offered through the Military and Family Support Center (MFSC) as well as Morale, Welfare and Recreation (MWR) programs. We will also discuss some "must see and do's" including local attractions and grubs during your tour of duty at JBPHH
WOMEN EMPOWERED GROUP. This self-development group aims to help women harness their own voices and strengths, learn to build healthy relationship, take actions towards personal growth. This group is held in a supportive and confidential atmosphere with opportunities to meet and share with others. For more information and to register, contact MFSC and ask to speak to the group facilitator.
WORK AND PERSONAL LIFE BALANCE. Learn to manage everyday stressors to create a healthy work and personal life balance. This class will focus on strategies to create realistic expectations and challenge negative thinking patterns, while expanding your toolkit for maximum balance and well-being.