Crisis Response & Counseling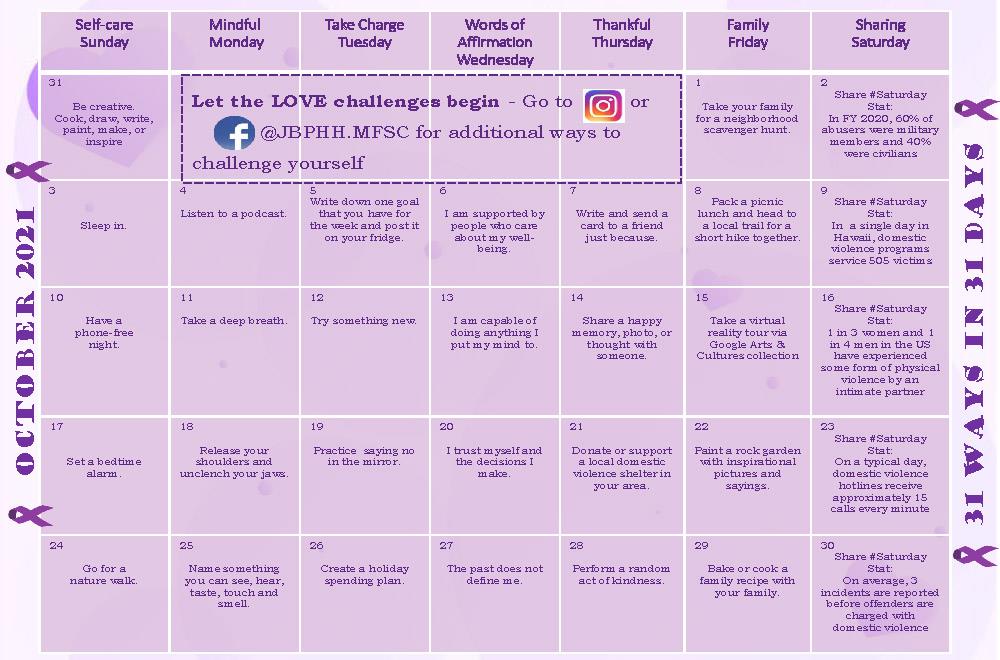 Click image to download calendar
MFSC provides Clinical Counseling and Crisis Response services for various situations facing our military community. For more information or to schedule an appointment, call 808-474-1999. Services are offered at various MFSC Locations.
The MFSC provides education programs to promote understanding and awareness of risk factors and dynamics of child and domestic abuse to commands, individuals, couples, families and community groups. When abuse or neglects occurs, the Family Advocacy Program provides immediate intervention, safety and support to victims, as well as behavioral education and counseling to offenders to reduce or eliminate the risk of future abuse. Under DoD policy, military victim advocates, clinicians and health care providers can provide confidential support and information regarding domestic abuse, without reporting to law enforcement or the service member's command. Confidential reporting of domestic abuse is available to both active duty and family member spouses.
Victim advocates provide victims of abuse with information regarding safe and confidential ways to seek assistance, their rights, military and civilian orders for protection, and available civilian and military resources. The MFSC also provides crisis intervention, safety assessment, and planning. After Hours Crisis Line: 808-590-7719
The MFSC supports commanding officers to create a command climate of prevention that promotes installation- wide sexual assault awareness efforts and management of sexual assault cases, including victim advocacy and intervention services. Confidential reporting of sexual assault is available to active duty personnel by calling:
JBPHH SAPR Emergency Phone: 808-722-6192.
PMRF: 808-551-1452
Safe Helpline: 1-877-955-5247
AIR FORCE - SAPR
Office Number: 448-3192 or 448-3193
24/7 Crisis Line 808-449-7272

See our flyer:
Training Classes 2021
Information on Reporting and Support Services
Licensed clinical practitioners provide individual, group, and marital counseling to active duty Sailors/Airmen, and their family members for a variety of life situations. Call 808-474-1999 for more information or to make an appointment.