Paint & Sip - where everyone can be an artist!
By Reid Tokeshi
(This story originally appeared in the June 2018 issue of the Great Life Hawaii magazine)
Despite what many people think about themselves I believe everyone has a creative side. Okay, maybe drawing or singing isn't your strong suit, but there's something out there that gets the right side of your brain energized. It doesn't have to be huge. It's having an outlet to express yourself, something you enjoy and making it yours at the end.
For me, painting was always an intimidating art form. I'm the one that if you ask me to describe a shade of blue will just say it's lighter or darker (opal, turquoise, cobalt, what's that?). The thought of taking a class is nerve wracking. When I heard about Paint & Sip, a weekly activity (not class) involving painting, I thought this was more my speed. So I signed up myself and my better half for a date.
Here's how Paint & Sip works: The first hour is spent checking in, picking your seat, maybe getting some food and drink from the Koa Lounge (hence the "Sip" part). As the first hour winds up an experienced artist presents a painting subject for the night. They give a quick rundown of the tools in front of you, how the night will go and generally make you feel comfortable. For the next two hours, they demonstrate how to recreate the subject and guide you along the way. At night's end you get to take home your completed painting.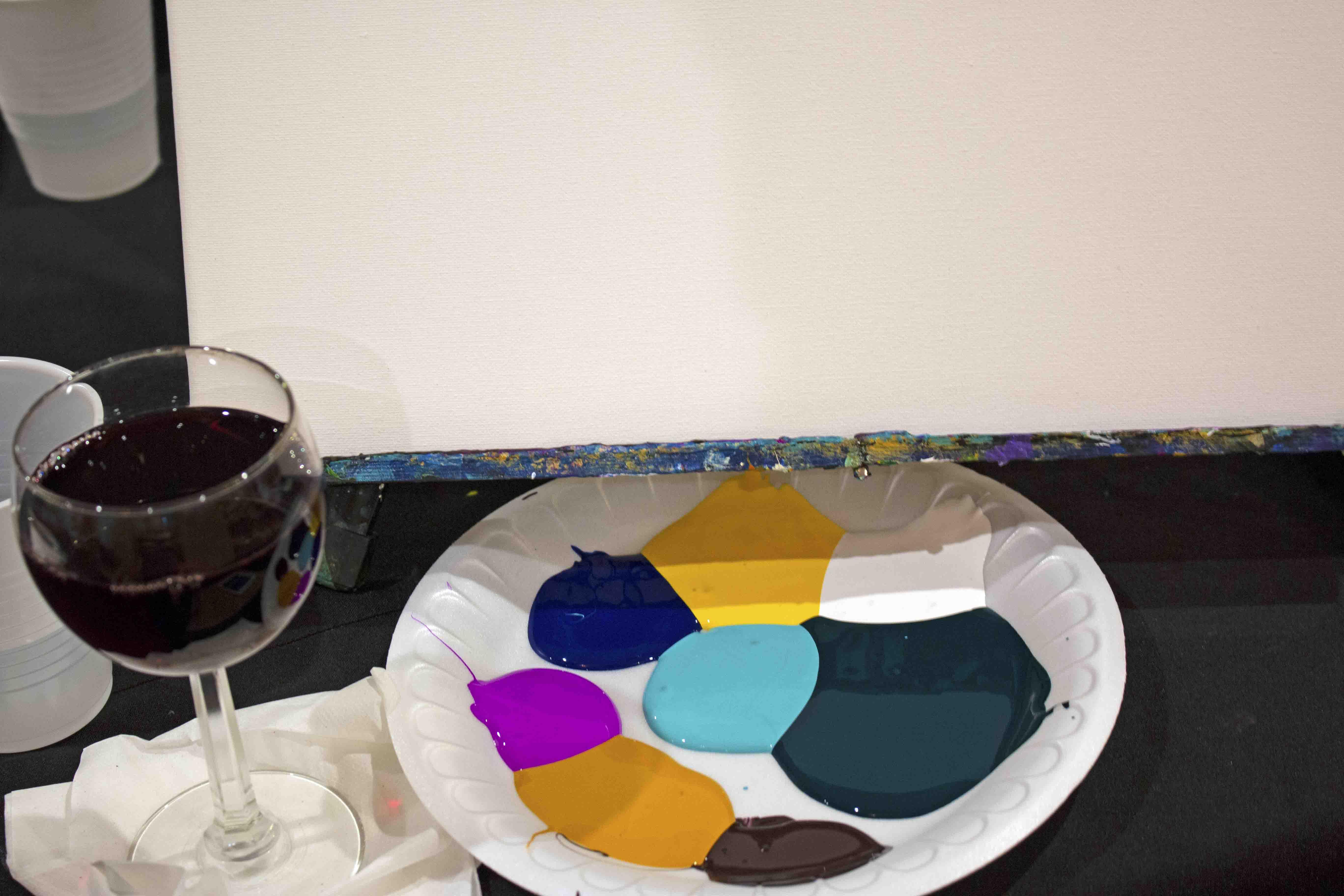 When we first sat down, waiting for us was a palette with several acrylic paint colors (three kinds of blue of course), 3-4 brushes of varying sizes and shapes and a "knife". It already felt like I was over my head but the casual manner of the instructor, Dennis McGeary, helped put me at ease.
This is not a room full of artists – although a few may be in the crowd – and Dennis knows it. When dealing with newbies like me, he says, "I concentrate on the basics: holding the brush, applying the paint and simple color mixing."
The two hours went by quickly. With Dennis' guidance we painted a beach scene, complete with ocean, sand, mountains and palm trees. We marveled how his seemingly random brush strokes turned into art.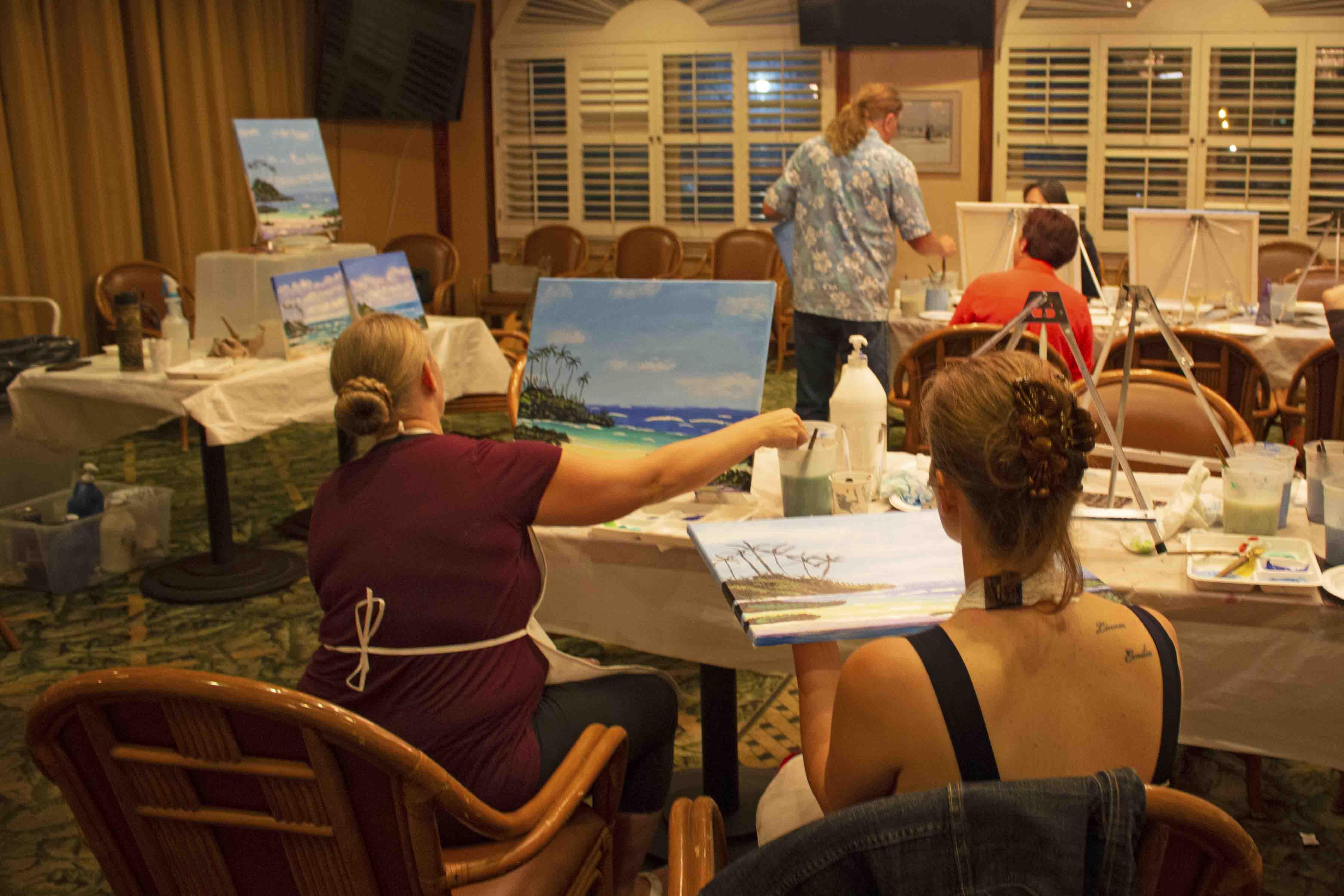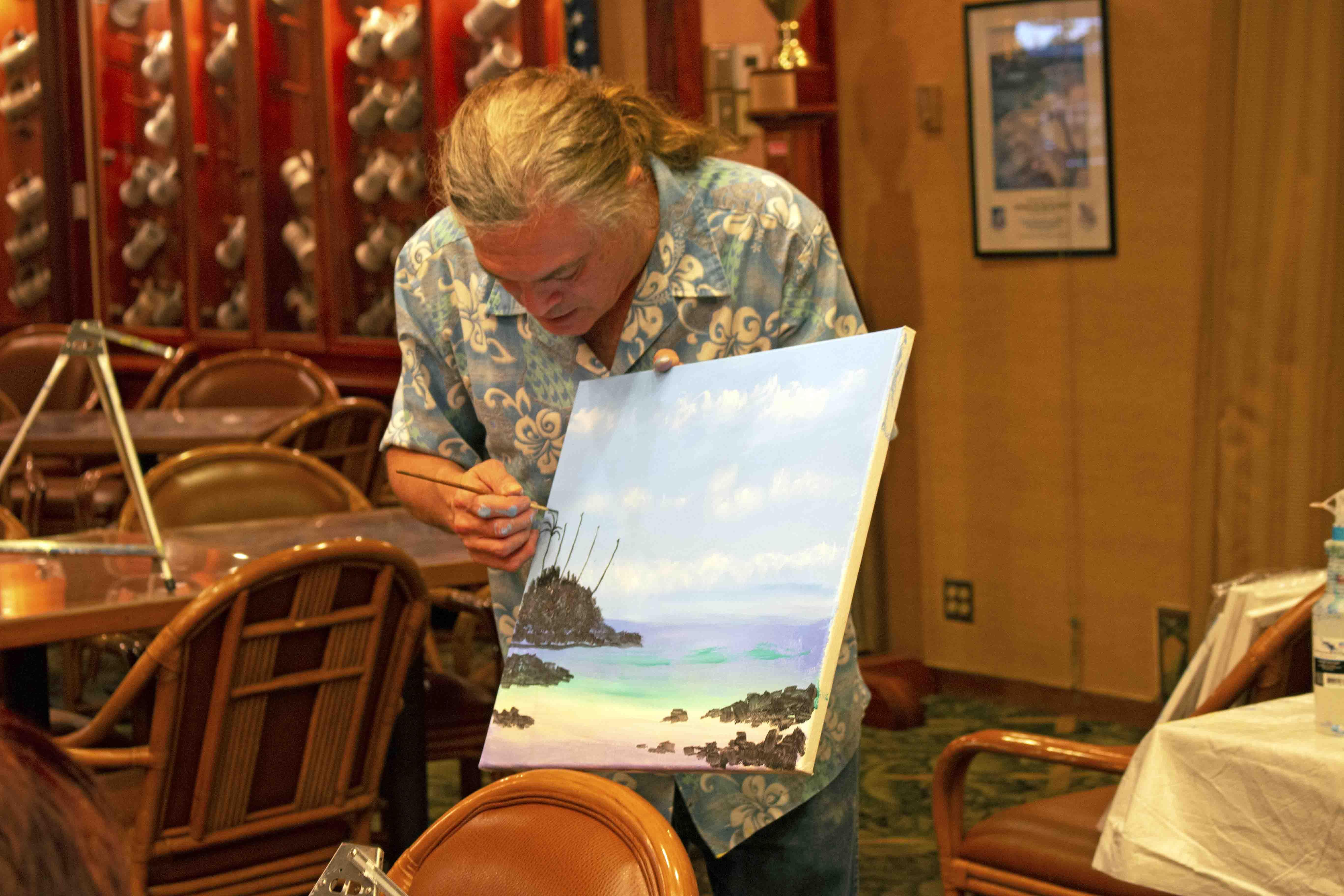 We did fall behind a bit at one point as we focused on getting things "perfect". The expression "you are your own worst critic" seemed to ring true. My date told me my palm trees were way better than hers. I said her blended colors near the shore put mine to shame. Near the end of the night we all walked around got a look at everyone's paintings. It was funny how often I heard someone say that theirs isn't as good as the others.
Each person had their own interpretation of the subject and honestly, they all looked good. Yes, some were more experienced. But everyone showed their individual touch in applying color to canvas. As Dennis says, "It's amazing how the painter's personality is reflected in the style of their artwork." He adds that it's personally gratifying for him to see everyone's smiling faces with their personal masterpieces at the end of the party.
My date and I agreed that the night was fun and we were surprised what we were able to do. This made us curious to see how another Paint & Sip instructor, Charis Derry, differed from Dennis. We searched for a night that Charis was the guide, found a painting we liked and signed up for another session.
A few weeks later, we returned for our next night of painting and sipping. As expected, Charis has her own style, in art and in how she leads the group. Her focus is eliminating any intimidation factor. Don't get me wrong, she knows her stuff. However, Charis makes every effort to make the total beginner feel comfortable. "When people come to Paint & Sip they should know that they don't have to know anything, just show up and have fun! All the paintings are designed to be done easily by beginners, the colors are incredibly easy to mix, and everything is step by step."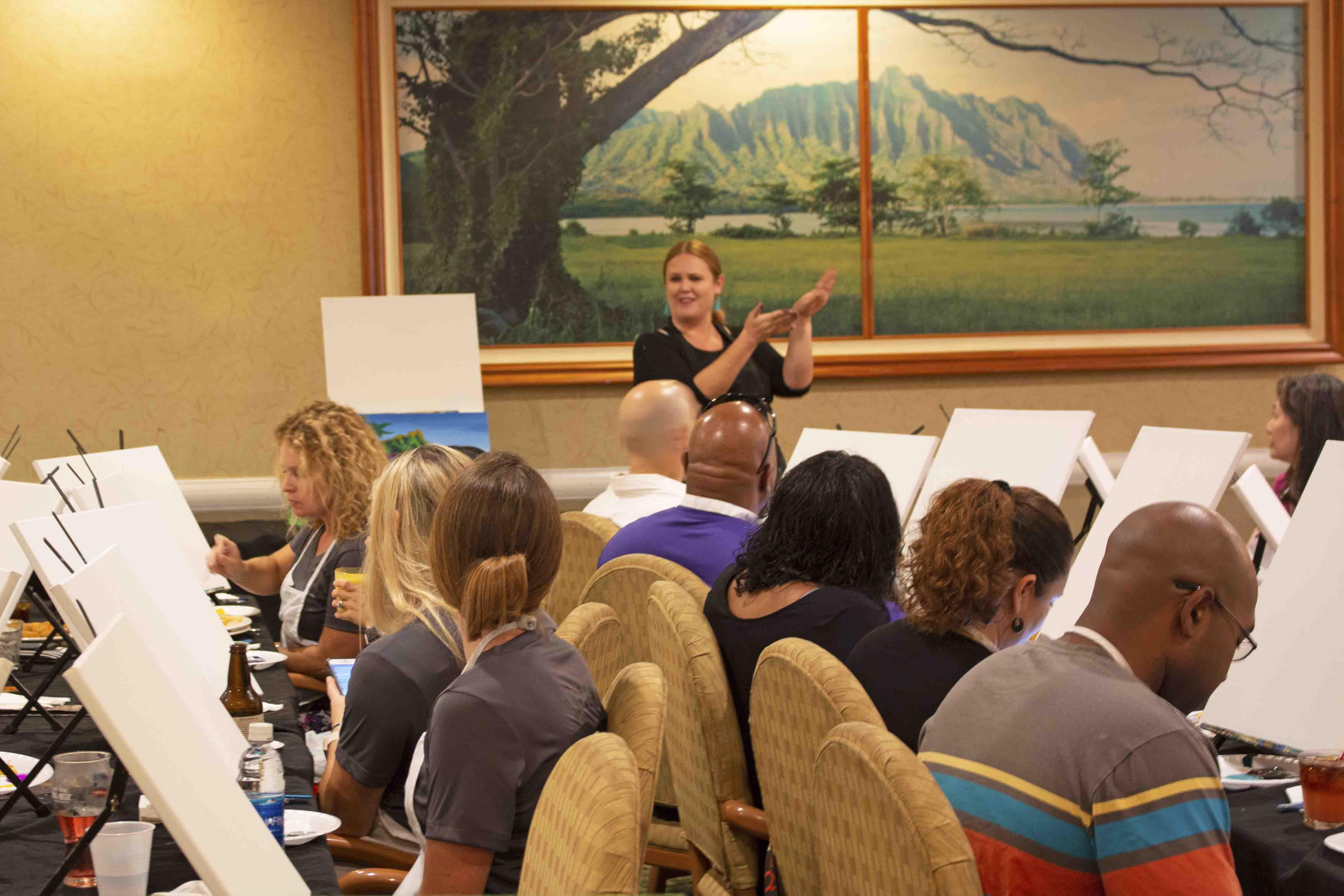 She encourages everyone to make the experience whatever they like. "You shouldn't feel like your end product needs to match anything. In fact, it's better if it doesn't! The beauty of Paint & Sip is that you can have 30 different people who, even if they all follow the exact same steps, end up with 30 completely unique and beautiful paintings."

As I mentioned earlier, Charis picks subjects that are beginner-friendly. Yet, with her instruction you are blending colors and using basic shapes to create interesting images at the end. Since this was our second time doing this, we were a bit more comfortable. This gave me the chance to look around and see what the others were doing and it was fascinating.
A few must have done something like Paint & Sip before. They went in very different directions. One started with Charis' subject but picked a vibrant mix of very different colors; picture a golden sky and Diamond Head is red instead of green. Another added elements to the scene that weren't on the example. It turns out both instructors encourage this creative expression.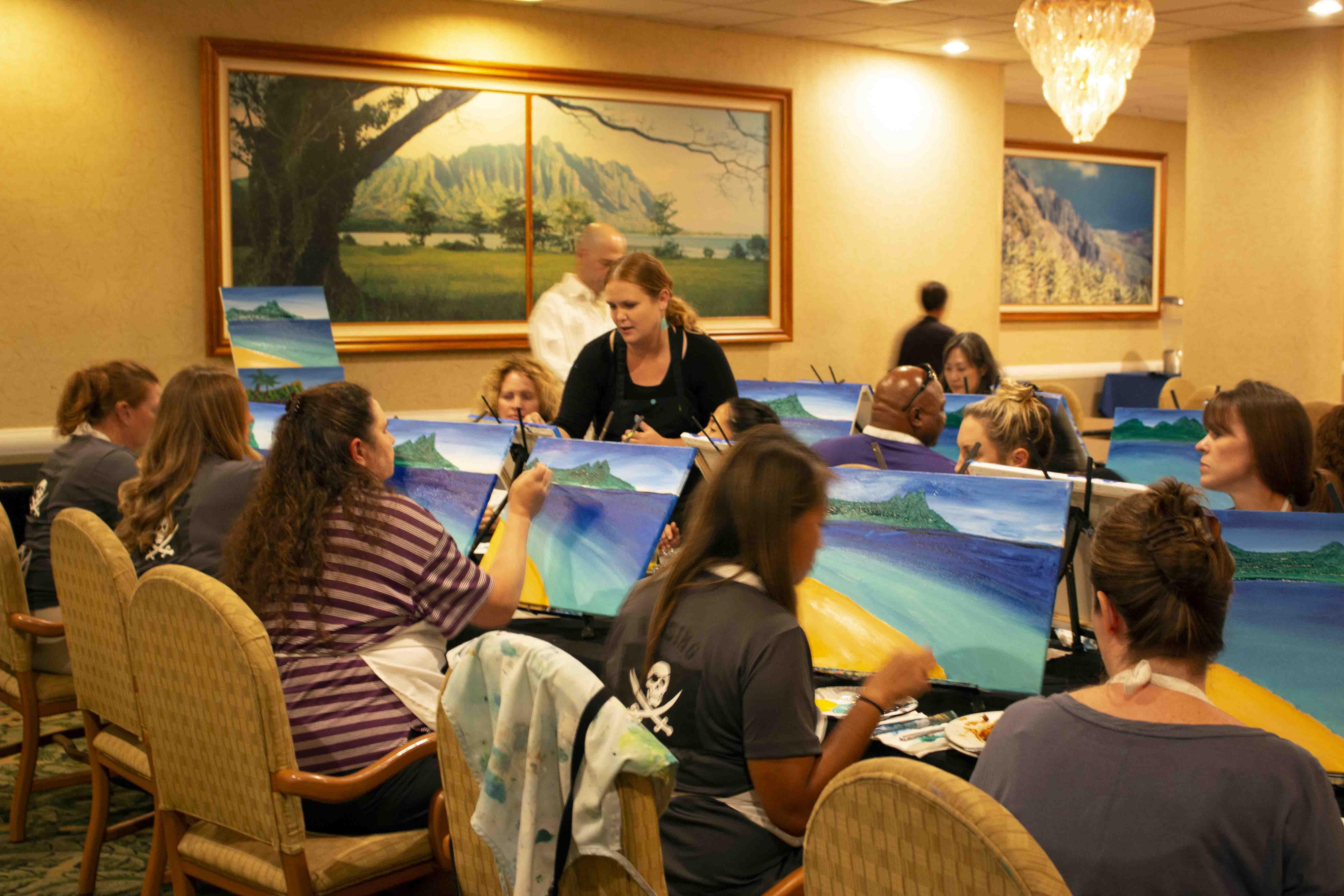 Charis says, "While we make the paintings easy enough for beginners, we also try our best to make them with enough wiggle room so that even an experienced painter could take the basic colors and steps and really run with it." One interesting side note she shared with me: she's even had patrons come in with a photo and paint that instead of the subject she provided. Charis is perfectly fine with it but acknowledges that she cannot help them as much since she is focused on what the rest of the group is painting.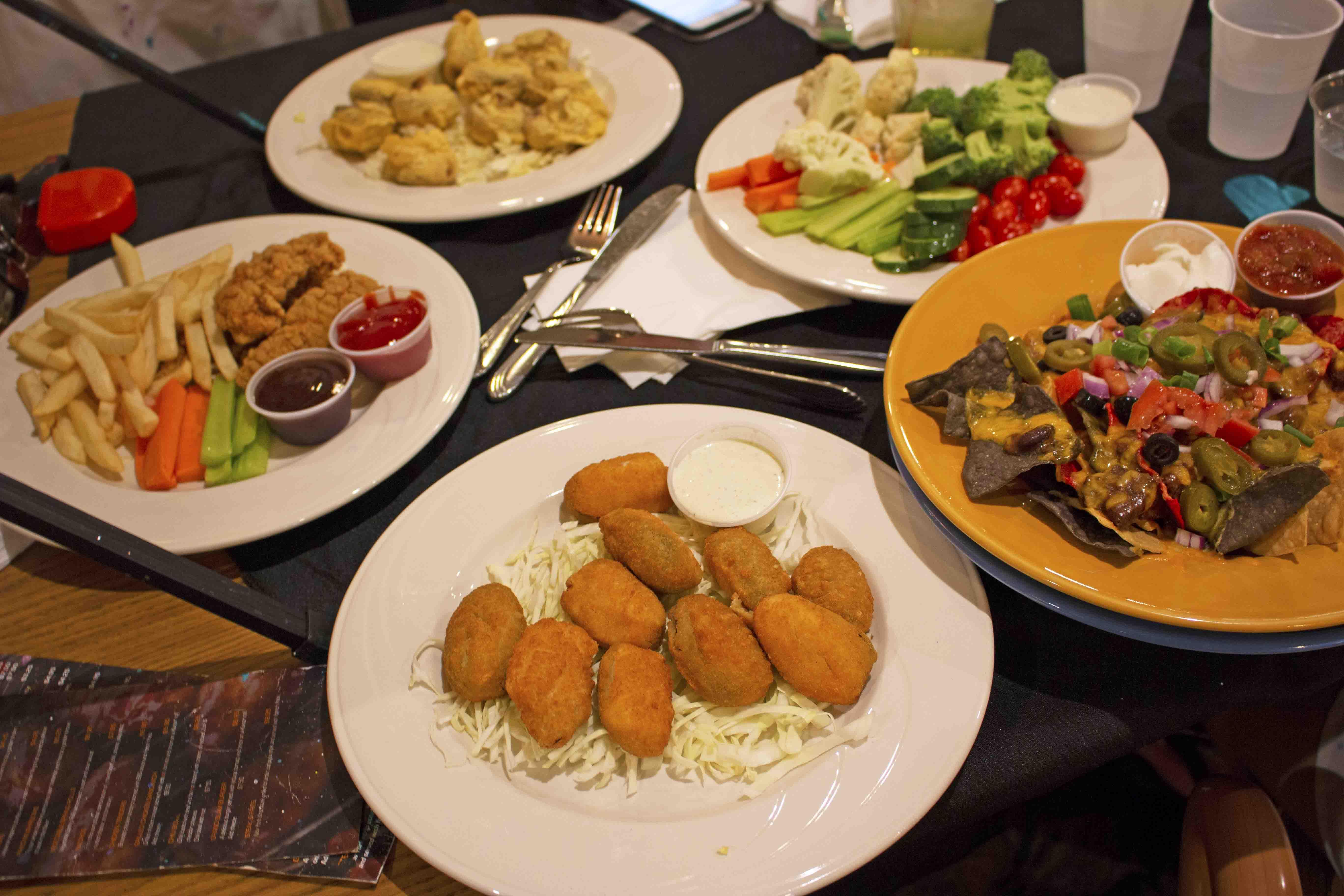 I chatted with the instructors and discovered that other patrons have also tried both artists. Now, each have their fans that are repeat customers. Charis is flattered to have them return. "I take it as a big compliment that they aren't bored yet and I look forward every week to seeing what amazing beautiful things they will make out of each painting prompt!"
We liked both instructors and sessions and I can't say we preferred one over the other. There were aspects of Dennis' night that we liked better and the same can be said for Charis. The fairest thing I could recommend is find a painting you want to try and sign up. Then if you're curious, take the plunge and sign up with the other.
Some people choose when they'll go by how easy or hard they think the painting will be. I say don't let that decide it; just pick something you like. You'll find that recreating what's in front of you is not as hard as it looks. Painting subjects often have a Hawaii or tropical theme, which is perfect as a memento of the time spent while stationed here. Charis and Dennis switch it up to keep things fresh and interesting, especially for repeat customers.
Paint & Sip happens every Wednesday and the $40 price tag includes all art supplies. Food and drink is available for purchase. It is open to all ranks, all DoD cardholders and their sponsored guests. You can sign up online at greatlifehawaii.com on the Arts & Crafts Center page. Dress casual and comfortable. Aprons are provided but you still want to be careful to not get paint on your clothes.
By the way, some think anything that happens at the Historic Hickam Officers' Club is only for officers, but that's not the case. Paint & Sip, the Sunday Brunch, private functions and all the others are available to any base-eligible patron.
This is perfect for a fun date or a night out with friends. Even if you're solo, you can have a good time because the camaraderie in the room is energizing. Charis says art can be a quiet and lonely pursuit, but it certainly is not here. Laughs are shared, friendships have formed and there are smiles every night. You really don't need to know anything about painting, and it can still be a creative, entertaining experience.