Register for a Safety Check Appointment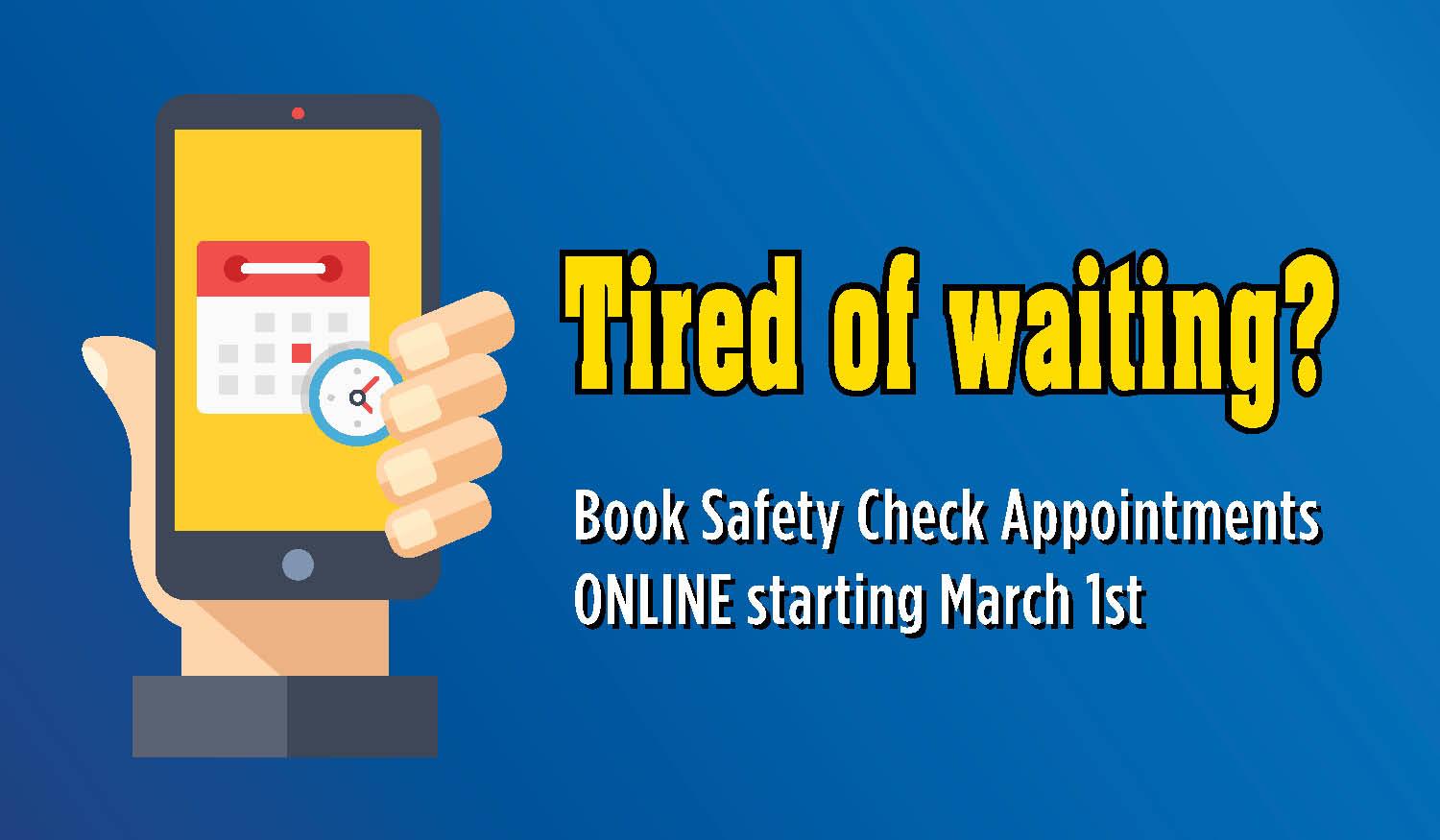 MWR is happy to offer appointments online for vehicle safety inspections at the Hickam Auto Skills Center (4002 Moffet Street, on Joint Base Pearl Harbor-Hickam).
Appointment slots are 30 minutes. We ask that you arrive on time. If you cannot keep your appointment, please call 449-2554 to cancel. Space is limited and we want to serve our entire military community as quickly as possible, by rebooking the space if appointments are cancelled.
For vehicle inspection appointments offered March 16 – 31, you may book online starting March 1st . Inspection days and times are below and appointments are scheduled every 30 minutes:
Tuesdays – Fridays, between 7am – 3pm
Saturdays, between 9am and 3:30pm
Please bring:
Hawaii state vehicle registration
Current insurance card
Reconstruction permit (if vehicle is modified)
For more information on what to bring or unique situations, please click on one of the links below for information on Frequently Asked Questions (FAQ's) and regsitering an Out of State Vehicle.
State Vehicle Inspection FAQs (click to expand)
What documents do I need for a safety inspection?
-You will need your Hawaii Vehicle Registration (Out-of-State Permit if you are keeping your out of state registration) as well as Hawaii watermarked insurance card. Please make sure your insurance card's effective dates are current for the date in which it is being inspected.
Are digital insurance cards on your phone accepted?
-YES, if the digital insurance card provided is thru the official Insurance providers phone "app" or application. Screen shots, captures or pictures of your physical insurance cards are NOT acceptable. Please keep in mind that the inspector will need to be in possession of your phone for the entire duration of the safety inspection if you do decide to use the digital app option.
Does the registered owner have to be the one to bring the vehicle in for the safety inspection?
-NO, as long as all the documents are valid and current, anyone can bring the vehicle in for the inspection.
Do I need to bring back the vehicle for my re-inspection?
-YES. You will need to bring back the vehicle that was initially inspected, as well as all the previous documents (registration/insurance/failed inspection slip) as the inspector will need to complete the entire inspection process again
How long is my failed safety inspection slip valid for?
-Your failed safety inspection slip is good for 30 calendar days from the initial date of inspection. Please note that all items noted as reason for failure, must be fixed in order for the approval to be granted when returning in the 30 day re-inspection period. If any items are a repeat or if new items are found and result in failure, a passing inspection cannot be granted.
Can I still register my vehicle at the DMV with any failure items besides registration?
-NO. You must correct all failure items PRIOR to going to the DMV to do your registration. DMV will only allow you to register the vehicle in state if REGISTRATION is the only failure item on your safety inspection slip.
Is there a penalty if my FAILED safety inspection has lapsed beyond the 30 days?
The Auto Skills Center will only provide a free of charge re-inspection for 30 days from the original inspection date. After that date, you would need to start the process over, making another appointment and making payment for another inspection.
Am I able to go to any inspection station to finish up my safety inspection?
If you would like to take advantage of having your car re-inspected at no charge within 30 days of your original inspection date, you are required to return to the same inspection station you initially were inspected at.
Upon re-inspection will the safety sticker be applied to my vehicle?
-YES. The safety inspector is the only authorized person to apply the sticker once all defects have been addressed.
Can I have the sticker applied to a safety bracket if I don't want it directly on the vehicle?
-YES, but be advised that the bracket MUST BE INSTALLED RIOR to having the vehicle re-inspected.
Once my vehicle has passed safety how long is the safety inspection good for?
-It is good for 1 calendar year, and expires at the end of the month in which it was inspected.
Is there a penalty if my PASSED safety inspection has lapsed/expired when I am returning to get a new annual safety inspection?
-NO, there is no late fee charged, unlike the City and County registration late fee. However, driving with an expired safety inspection could result in a ticket from the City & County of Honolulu.
Can I do my safety inspection a month or two in advance before it actually expires?
-YES, but your safety will now expire on the month you decided on doing your safety in advance and will not expire on the same month it was originally meant to expire on. In doing so, you lose out on those months.
IMPORTANT LINKS FOR MORE INFORMATION
Link to obtaining Out-of-State Permit:
https://www.hawaiicounty.gov/departments/finance/vehicle-registration-licensing/motor-vehicles-general-information/out-of-state-permit
Link on How to obtain a Reconstruction Permit for modified vehicles:
http://www.honolulu.gov/index.php/cms-csd-menu/site-csd-sitearticles/6440-faqs-about-reconstructed-vehicle-inspection.html
Link to Online Scheduler for Joint Base Pearl Harbor Hickam (JBPHH) Vehicle Registration:
https://app.acuityscheduling.com/schedule.php?owner=11365154
Link to AlohaQ Online – Off-base Dept of Motor Vehicle (DMV) and Satellite City Hall Appointment Line:
https://alohaq.honolulu.gov/?1&cat=1&name=Driver%20Licensing%20and%20Satellite%20Services