The Short and Sweet Kealia Trail
By Justin Hirai
(This story originally appeared in the June 2018 issue of the Great Life Hawaii magazine)
Oahu offers numerous hiking trails that vary in level of difficulty. One thing a majority, if not all of them have in common are beautiful scenic views you can't find anywhere else in the world. I enjoy hiking and usually prefer a difficult and challenging trail. But I do like to go on easy or moderate trails when I don't have a full day to hike or just want to spend some time relaxing outdoors. Knowing easier trails is also a plus when you have people who want to go but aren't experienced and or don't prefer extremely strenuous activities.
I was recently searching for a moderate hike that I could take a few friends on who aren't experienced hikers. Instead of reading reviews on the internet I wanted to get my trail advice from people I know are experienced, so I went to the Outdoor Adventure Center on Pearl Harbor. Don't get me wrong, reviews online are helpful and can provide good insight on deciding if a hike is right for you. However, I feel being able to talk to someone who has experienced the hike and many others can provide a lot more insight.
Joe Lewis from OAC suggested the Kealia Trail, which is located on the mountain side of Dillingham Airfield in Mokuleia. He recommended this because the trail is roughly 1.5 miles total which is short in comparison to others, the incline isn't very steep in most areas and it has a beautiful view of the North Shore coastline. After our discussion I was sold and we set up a day to tackle the hike.
Weather is always a big factor for outdoor activities. Bad weather conditions can force you to cancel an outing completely, while perfectly clear weather can make areas extremely hot. The day we chose to do the hike was overcast which provided cooler weather than normal for that part of the island, but it did take away a little from the scenic view of the North Shore coast.
The trail starts at the end of the Dillingham Airfield where there's a parking lot inside the gate that is accessible to the public. From the parking lot you can look up the mountain side and spot the area you will finish. Just look for a large patch of tall pine trees. The trail was dry and had about 19 switchbacks that makes the incline gradual for most of the hike. At around the halfway point we hit a switchback and were presented with a beautiful view. We could make out the white church tower at Waimea Bay and the coastline beyond. During the first half of the hike you don't even realize how high up you've gone.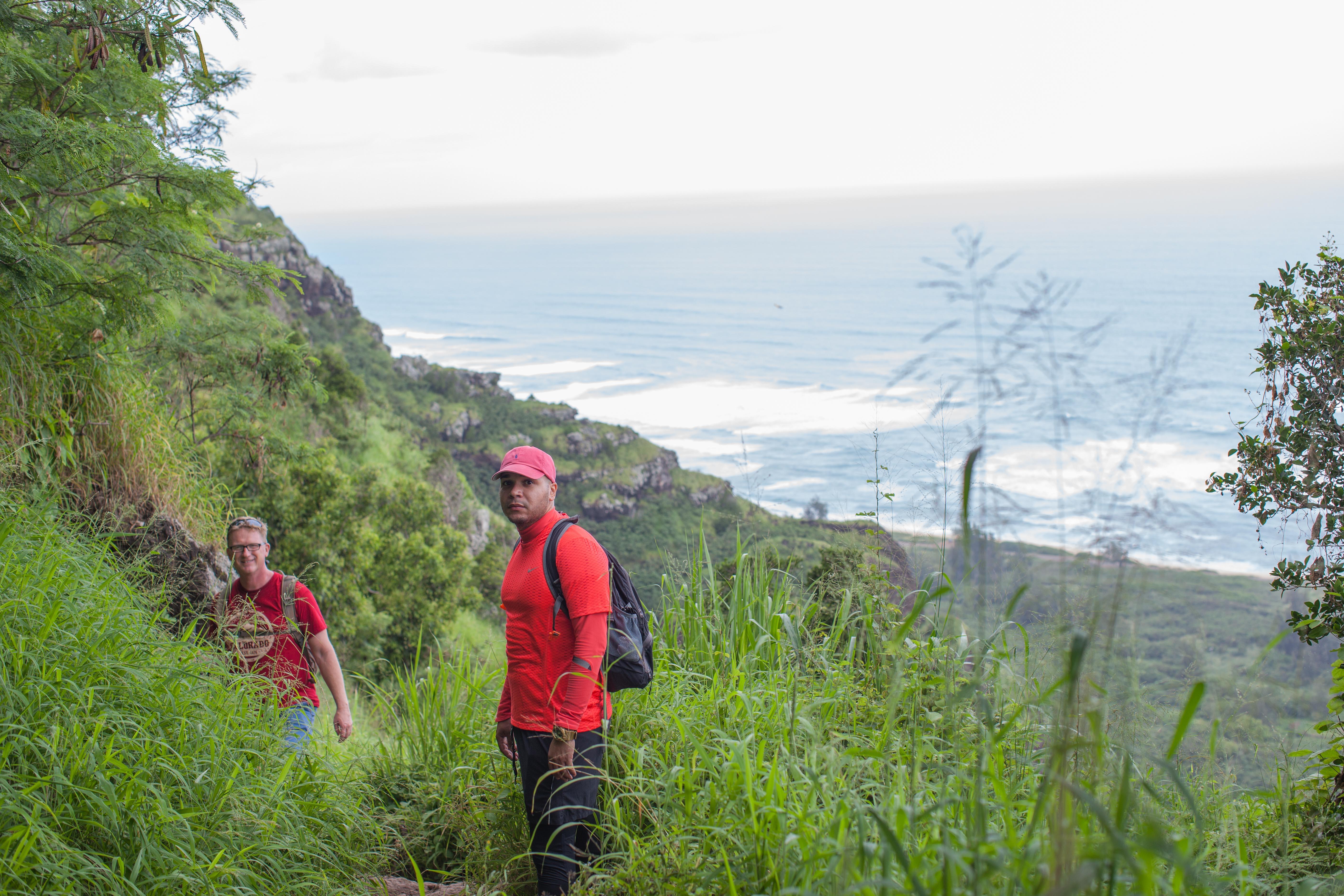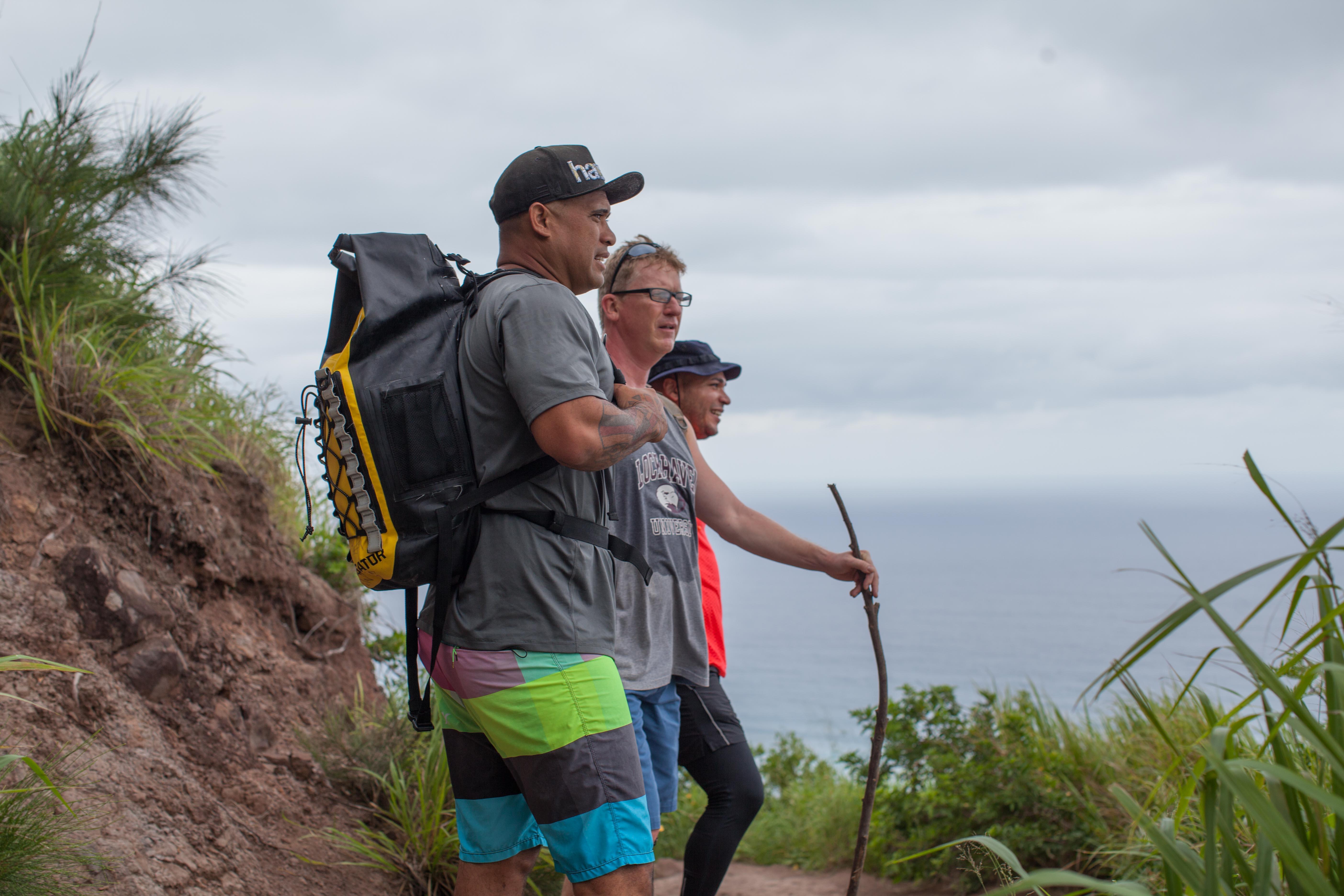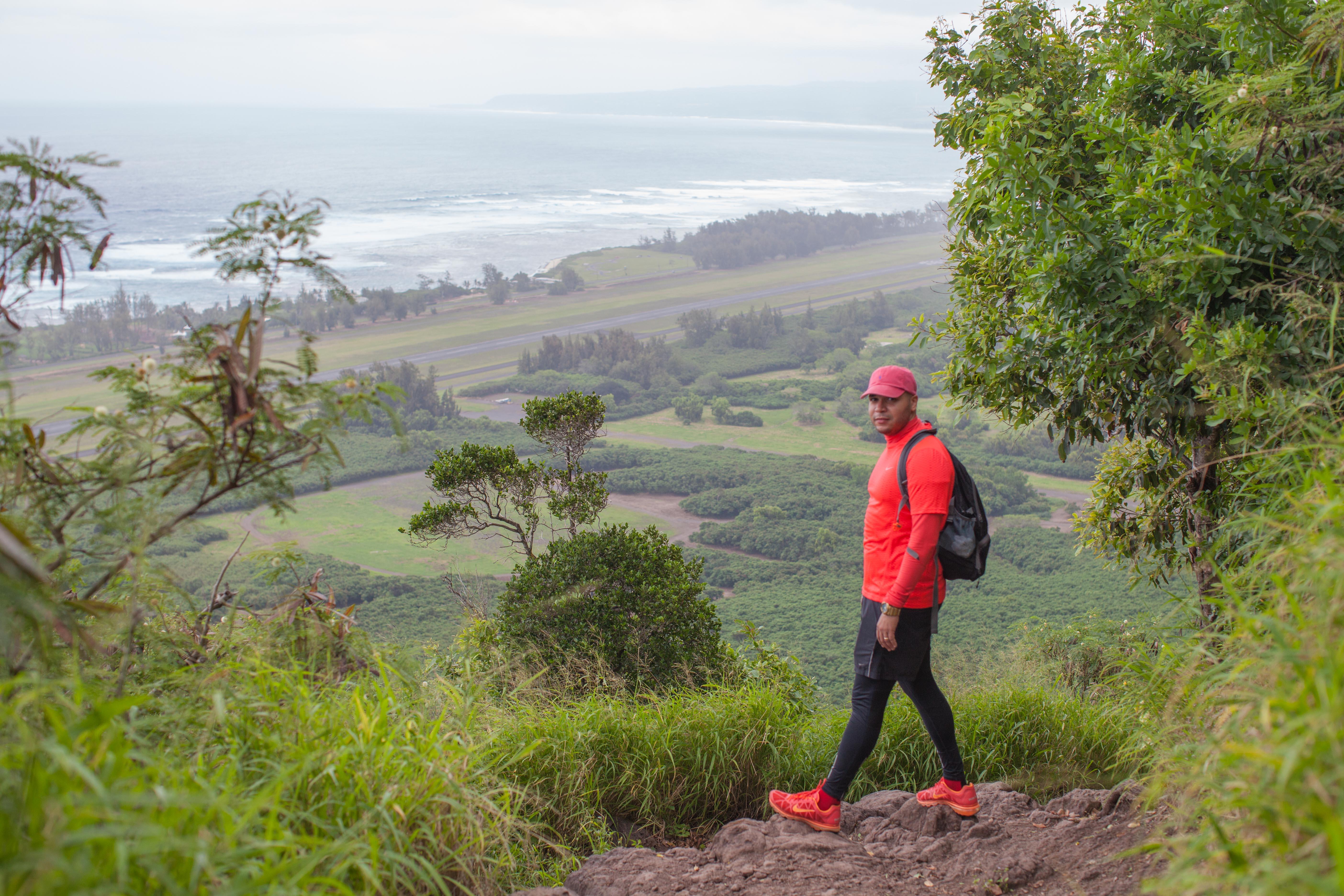 We reached the top of the trail in about 45 minutes due to stopping to take in the gorgeous views at the switchbacks. The end of the trail doesn't have a great scenic view because of the pine trees, but we took advantage of them and hung up some portable hammocks that we rented from OAC. After relaxing we headed back down the trail and finished the whole hike in about an hour and a half.
Just as Joe recommended I found this hike perfect for friends and family members who are novice hikers. We came across people walking with their dogs and some even with young children. If you want more advice on this hike or others be sure to stop by the Outdoor Adventure Center. The friendly staff can give you pointers from personal experience and have handouts on different trails throughout Oahu.
OAC has a new scheduled trip called the Kaiaka Bike & Hike, which includes a bike ride from Kaiaka Beach Park to Dillingham Airfield and a hike up the Kealia Trail. See the Outdoor Recreation Schedule on page 13 for more information about the trip. You can also schedule a Custom Adventure with OAC for this hike or others. Give them a call at 473-1198 to setup your next hike!
Remember, just because people say a trail is easy or moderate it doesn't mean that it will be easy for everyone. Everyone's physical capabilities are different and should be taken into consideration.