Thank you for your interest in working with Child & Youth Programs!
We will be hiring for Child & Youth Program Assistants (CYPAs). CYPAs directly assist in the care of children. For more information on the position CLICK HERE. Bypass the lengthy USAJobs process and meet us (virtually)! Book an interview BY June 18, all forms must be turned in before your interview. Hosting virtual interviews on June 22 & 23 with conditional job offers on the spot.
Navy child and youth professionals make a difference every day in the lives of children and their families, friends, neighbors and communities. Child & Youth programs support DoD personnel so they can focus on the mission- Caring for their ohana so they can protect ours.
With defined career path training and exceptional benefits (see below) and opportunities world wide, you can end your job search and start your career now. Work with Navy Child and Youth Programs today!

How does this work? What do I need to do?
Please complete the following steps:
Read the full position description- CLICK HERE
Register for an interview time below (By June 18) by clicking on one of the times below. Please only sign up for ONE interview time

Submit application packet to include: resume, proof of education, ID & supplementary forms prior to your interview.

Email

(

JBPHH_CYPVirtualhiring@navy.mil

) or drop off to Peltier CDC (

530 Peltier Ave Bldg. 1925, Honolulu, HI 96818)
A CYP Manager will contact you at the scheduled time to conduct your interview
Click on a time to begin registration. If the time isn't clickable or interview time is full, please try another time. If there are no times available you may sign up for the waitlist below.
If ALL interview time slots are full, CLICK HERE to sign up for the waiting list.
Submit forms prior to your interview. Email (JBPHH_CYPVirtualhiring@navy.mil) or drop off to Peltier CDC (530 Peltier Ave Bldg. 1925, Honolulu, HI 96818)
Please CLICK TO DOWNLOAD all of the following information to learn more about the position and our program.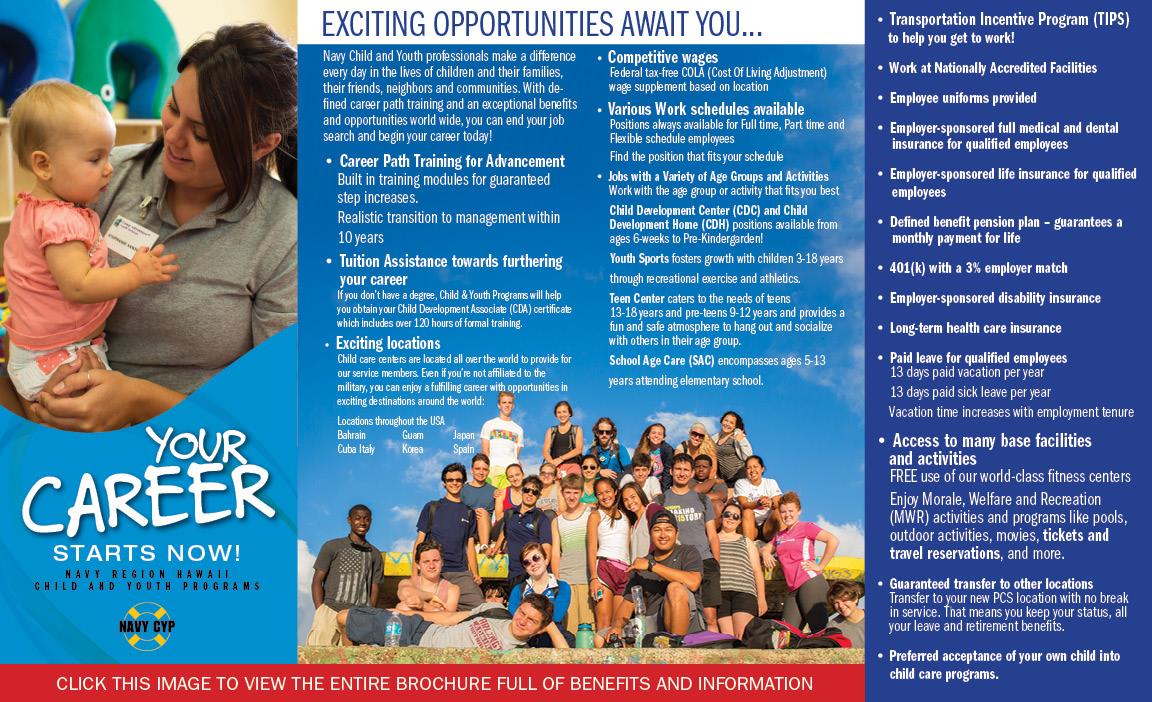 CLICK HERE for map of Child Development Center & School Age Centers

Have a question or need help?
Call: 449-5230
Email: JBPHH_CYPVirtualhiring@navy.mil