Thank you for your interest in working with Child & Youth Programs!
We're hiring Child & Youth Program Assistants (CYPAs). CYPAs directly assist in the care of children. For more information on the position CLICK HERE. Bypass the USAJobs process and meet us in person!
Navy child and youth professionals make a difference every day in the lives of children and their families, friends, neighbors and communities. Child & Youth programs support DoD personnel so they can focus on the mission- Caring for their ohana so they can protect ours.
With defined career path training and exceptional benefits (see below) and opportunities world wide, you can end your job search and start your career now. Work with Navy Child and Youth Programs today!
New hires can earn over $2000 in sign on incentives like bonuses and paid leave!
Note: As required by Executive Order 14043, Federal employees are required to be fully vaccinated against COVID-19 regardless of the employee's duty location or work arrangement (e.g., telework, remote work, etc.), subject to such exceptions as required by law. If selected, you will be required to be fully vaccinated against COVID-19 and submit documentation of proof of vaccination by November 22, 2021 or before appointment or onboarding with CNIC, if after November 22. CNIC will provide additional information regarding what information or documentation will be needed and how you can request of CNIC a legally required exception from this requirement.
Please CLICK TO DOWNLOAD all of the following information to learn more about the position and our program.

Career path training for advancement
Tuition assistance
Transportation incentive program
Medical & Dental insurance
Access to base facilities & events
Navy to Navy transfer program
NEX shopping privileges
& More! Download the full brochure- CLICK HERE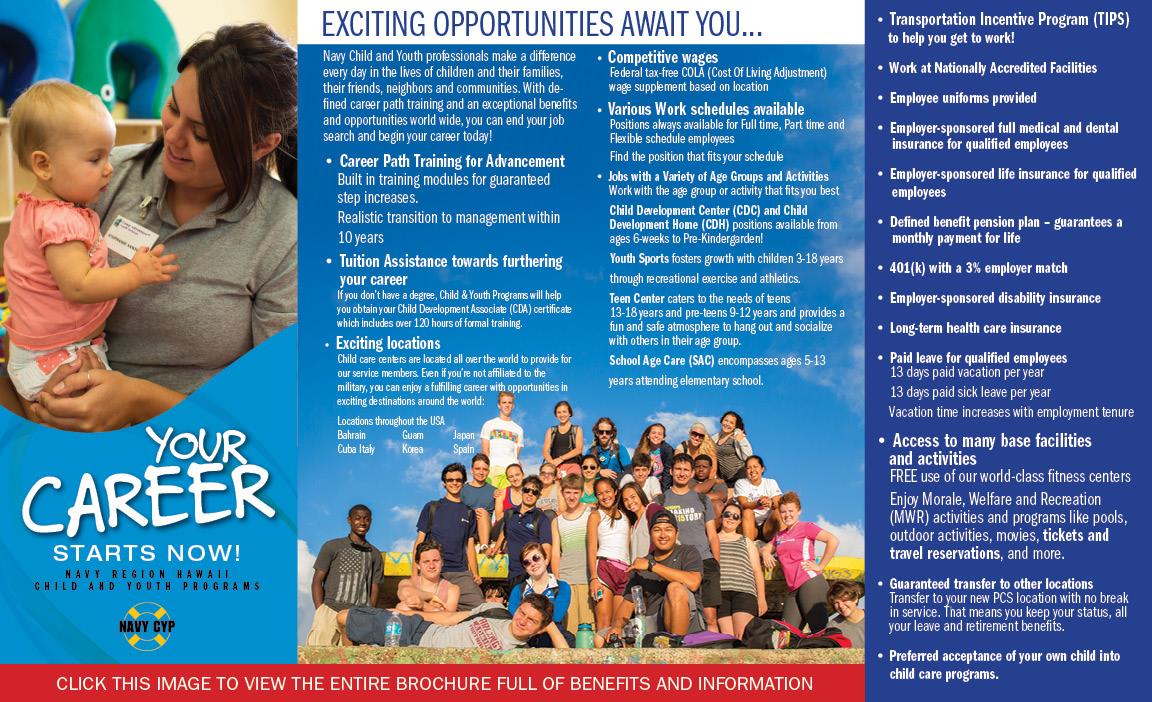 CLICK HERE for map of Child Development Center & School Age Centers

Have a question or need help?
Call: 808-448-4396
Email: CNRH_NAFHR@US.NAVY.MIL